Materials for Sale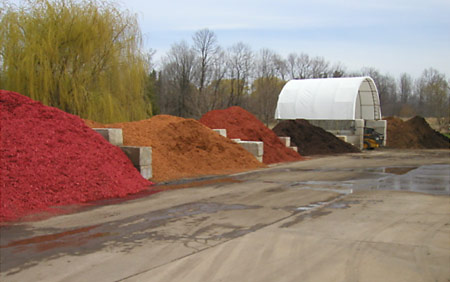 Commercial Industrial Residential
Types
Enviro-Mulch (Red, Gold, Chocolate, Brown)
(Color Enhanced)
$29.00 per yard
Installed
$85.00 per yard
Cedar
$44.00 per yard
Hemlock
$48.00 per yard
Double Shredded Hardwood (Natural)
$23.75 per yard
Installed
Add $40.00 charge
Wood Chips
$21.00 per yard
Sand (Playground) Approx. 2800 lbs.
$39.50 per yard
Top Soil (Blended)
$23.50 per yard
Installed
$50.50 per yard
Stone-Decorative: Crushed Granite (Red or Brown)
(1 Yard weighs between 2500-2800 lbs.)
$160.00 per yard
Limestone: #1, #2, #3, & T.B.
$45.00 per yard
Boulders: 10-12", 12-18" (Free Delivery)
$200.00 per ton
Straw (Bale)
$5.50 each

(Various Sizes, Priced by the Ton)
Gravel • Stone • Traffic Bond
Quantity Pricing Available
Deliver or Pick-Up

Please contact our office or submit a request
for a quote online to receive a bid for your property.